Weekly lithium news summary February new energy vehicle deliveries are out! Two major new energy projects Wenzhou signed! Tesla next generation permanent magnet motor abandoned rare earth materials!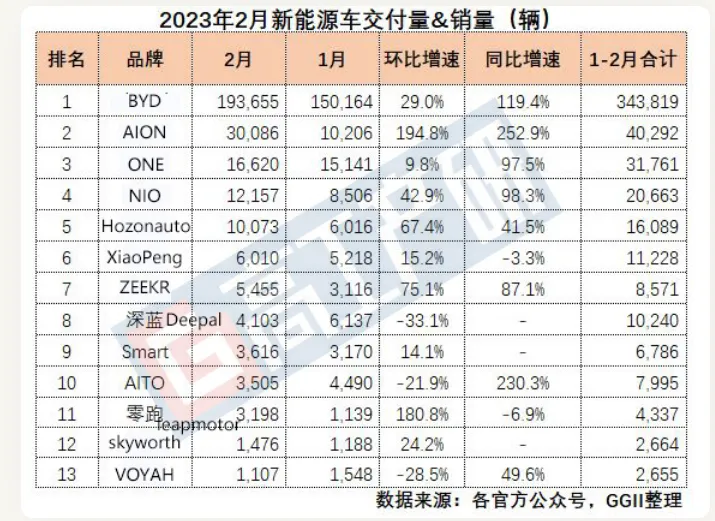 What's the news in the new energy industry this week? Please pay attention to ZESHENG to sort it out for you one by one.
Keywords: new energy vehicle sales, new energy battery materials, REPT, Maiden Energy, LG, Honda, Tesla, rare earth materials, etc.
[New Energy Vehicles February Report Card]
New energy vehicles report card in February, Tesla fell out of the top ten. GGII, based on the officially disclosed delivery & sales statistics of some brands of new energy vehicles, shows that BYD sales reached 193,000 units in February, up 119.4% year-on-year. Among them, ONE car and NIO among the new forces of car-making have delivered more than 12,000 units in February, with a year-on-year growth rate of more than 90%.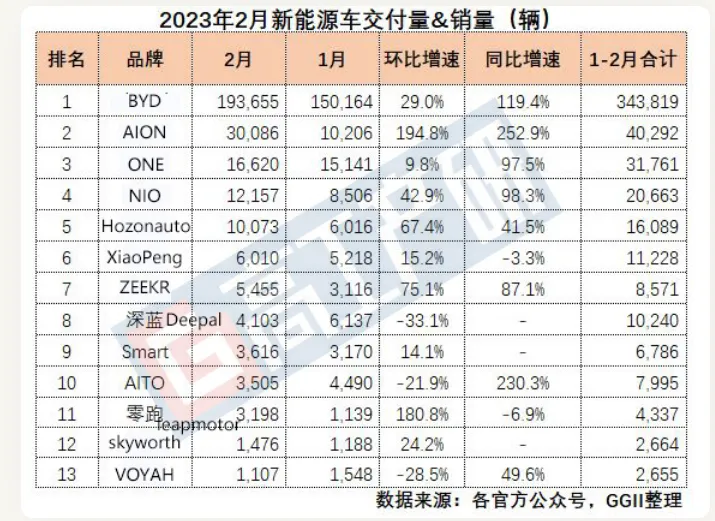 [About 1.4 billion investment in 200,000 tons of battery aluminum foil billet project]
In 2023, the investment and construction of new energy battery material projects are still going wild. It is understood that Guochao Aluminum's annual output of 200,000 tons of new energy battery aluminum foil blanks project planning site of about 109 acres, with a total investment of about 1.4 billion yuan, is expected to be completed and put into operation at the end of this year. The project start site meeting and company inauguration ceremony were held on March 1 in Nanning City Yongning District Emerging Industry Park.
200,000 tons of new energy battery aluminum foil blanks project
[REPT and Maitian Energy expand production at the same time, 24GWh+50GW!]
On the morning of March 1, REPT 50GWh new energy manufacturing base (Phase III) started construction in Wenzhou Bay New District, and the signing ceremony of REPT Energy's 50GWh and Maitian Energy's 50GW production expansion was held simultaneously. This marks Wenzhou's new energy industry chain layout optimization, and new energy manufacturing capacity, to build a "national new energy production center and application demonstration city" goal to accelerate progress.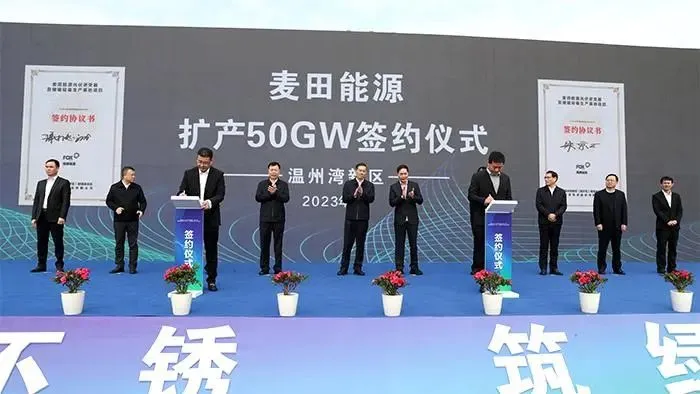 Maitian Energy's 50GW production
City leaders Liu Xiaotao, Zhang Zhenfeng, Ge Yiping, Chen Zuorong, and Xiang Guangda, Chairman of the Board of Directors of Qingshan Industry, attended the ceremony and witnessed the start of construction and signing of the project.
REPT, a subsidiary of the world's top 500 Qingshan Group, settled in Wenzhou Bay New District in 2017 and has completed the first and second phases of a power battery project with a total capacity of 26GWh and an output value of over 13 billion yuan in 2022. According to the 2022 domestic industry ranking, REPT is ranked No. 2 among Chinese power storage lithium battery companies in terms of shipments and No. 6 in terms of domestic lithium iron phosphate power battery installations.
REPT Energy's 50GWh
The newly started REPT Energy Phase III project, covering an area of about 566 acres, will build lithium battery production lines and PACK production lines for energy storage and power batteries with a capacity of 24GWh, mainly producing consumer batteries, power batteries, energy storage batteries, PACK battery packs, and other products, and plans to put into production the world's highest volume energy density (450WH/L) of self-researched new products "Ask Top Battery".
After the completion of the project, the total production capacity of REPT in Wenzhou Bay New Area will be increased to 50 GWh. The simultaneous signing of the 50 GWh expansion project of REPT Energy, which plans to build a more technologically advanced intelligent production line plus storage base for high-end power and energy storage lithium-ion battery systems, is expected to further enhance the layout of REPT's new energy production capacity in Wenzhou Bay New Area and help build new energy with international competitiveness. It is expected to further enhance the layout of new energy production capacity in Wenzhou Bay New District and help build an internationally competitive "10,000 mu 100 billion" platform for new energy materials and equipment.
[LG to build a battery plant in the U.S. with Honda]
In a $4.4 billion operation, another battery plant is about to be born, South Korea's LG New Energy said Wednesday, March 1, adding that the company's joint venture with Honda, LH Battery, has begun construction of an electric vehicle battery plant in Ohio, U.S. It is expected to be completed by the end of 2024, with production targeted for the end of 2025. The deal marks a new partnership between Honda and LG.
American Honda Motor Co. and LG Energy Solution held an official groundbreaking ceremony for a new joint venture electric vehicle battery plant covering more than 2 million square feet in Fayette County near Jeffersonville, Ohio, about 40 miles southwest of Columbus, Ohio.
[Tesla announced the next generation of permanent magnet motors abandoning rare earth materials]
It is understood that Tesla's 2023 Investor Day was held at the Texas Super Factory. Tesla engineers said that Tesla's next-generation platform will reduce the use of silicon carbide by 75%, and the next-generation permanent magnet motor will use no rare earth materials at all, with no loss of energy efficiency and a $1,000 drop in total manufacturing costs. In addition, it was proposed at the meeting that the future will allow homes, businesses, and industries to turn to heat pumps. Heat pumps can transfer energy from the outside of the house to the inside of the house, which will reduce energy consumption by 33 times for heating the building. From an industry perspective, heat pumps pave the way for increased efficiency.
permanent magnet motors
CIMB said that under the global carbon-neutral target, the long-term market for energy-efficient heat pump products is vast, and the current penetration rate still has more room for improvement. iEA data shows that the global building heating structure and heat pump heating will account for only 10% in 2021. "We believe that under the energy transition and policy stimulation, Europe heat pump demand certainty is strong, Midea, Daikin, and other HVAC companies are accelerating the layout of European heat pump production capacity, and we are optimistic about the long-term space of the global heat pump market represented by European demand."
Tesla announced that the next generation of permanent magnet material abandoned rare earth, but did not announce what materials can replace rare earth. Meng Qingjiang, former secretary-general of the Jiangxi Rare Earth Society, said in an interview with the Daily Economic News that the use of rare earth permanent magnet materials in China is currently at a very high level and can be used in a variety of new energy motors, foreign countries in the short term to find a replacement material, or more difficult.
"The most direct rare earth industry, is the rare earth permanent magnet materials, magnetoelectric conversion, are inseparable from the rare earth permanent magnet materials, in recent years, have not seen what alternative materials can replace the rare earth, now of course, also in the study of new magnets, but to reach the level of rare earth permanent magnet, has not yet appeared." Meng Qingjiang said.