Summary of lithium battery news with NMP as auxiliary material: CATL starts German factory! U.S. lithium project settles in Zhangjiagang, China!
Happy New Year everyone, these days the major enterprises are resuming work one after another.
We wish you all a good start!
This year, ZESHENG team had a very long and comfortable vacation.
This needs to thank the leadership team for the humanistic care of employees.
In the new year, all our team members will run in the direction of the efforts of a hundred-year enterprise, to live up to the high expectations of the leadership, and continue to shine in the industry, together to help the enterprise to a higher level!
Let's continue to take stock of recent industry news.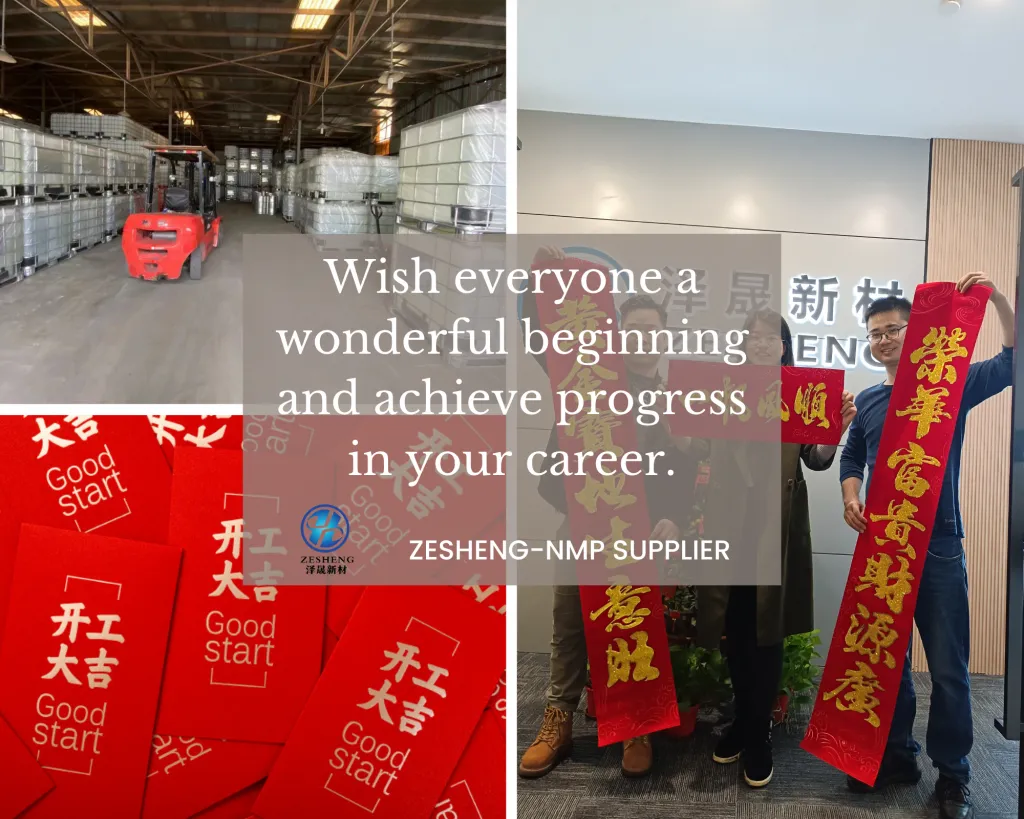 CATL's first European plant starts operations
CATL launched its first plant in Europe on January 26 in Arnstadt, Germany, according to a report by the German news agency DPA. With an investment of up to 1.8 billion euros (about 13.2 billion yuan), the plant is expected to eventually produce 30 million cells per year.
CATL's President for Europe revealed that in addition to the current start-up, five more production lines will come on stream in the coming months.
15 billion! EVE intends to expand production capacity of nearly 50GWh
On the evening of January 18, EVE released a series of investment announcements, to sign a 20GWh power storage battery production base project with the People's Government of Jinyang City, Chengdu, with a total investment of about 10 billion yuan; at the same time, the previously planned annual production of 10GWh power storage battery project in Qujing, Yunnan Province, will be adjusted to an annual production of 23GWh cylindrical lithium iron phosphate energy storage power battery project, the total investment from the original 3 billion yuan to 5.5 billion yuan.
Since 2022, the pace of EVE capacity expansion has accelerated significantly. According to incomplete statistics, including the two proposed projects announced, the company has in Hubei Jingmen, Guangdong Huizhou, Sichuan Chengdu, Yunnan Yuxi, Shenyang, Malaysia with capacity planning, the cumulative investment of more than 70 billion yuan, total capacity planning more than 400GWh.
Ganfeng Lithium invested in two major battery projects
Recently, Ganfeng Lithium released an announcement, announcing that it will invest in the construction of lithium battery projects in Guangdong and Chongqing respectively.
Specifically, Ganfeng Lithium, a subsidiary of Ganfeng Lithium, intends to invest in the construction of a new lithium battery and energy storage headquarters project with an annual output of 10GWh in Dongguan City, with a planned total investment of RMB 5 billion.
Ganfeng Lithium intends to invest with Three Gorges Water Conservancy and Dongfang Xinyuan in Chongqing Fuling High-tech Zone to build a 24GWh per year power battery project, with a planned total investment of RMB 10 billion.
BAK battery big cylindrical battery project landed
January 28, from BAK battery official account information, was informed that Changzhou City, Jiangsu Province, held the city's new energy capital construction to promote the General Assembly, the meeting and BAK battery officially signed a strategic cooperation agreement, marking the BAK battery large cylindrical production base will be located in Changzhou.
Specifically, the project plans to invest a total of 13 billion yuan, covering a total area of 450 acres, planning to build a 30 GWh large cylindrical battery production line and international R & D center. It is reported that the BAK battery Changzhou base will adopt 100% green power and practice low-carbon production.
The world's leading lithium-ion battery project settled in Zhangjiagang,China
Recently, the U.S. Amplex silicon negative high-energy density lithium-ion battery project was signed and settled in Zhangjiagang,China.
It is reported that Amplex is the world's leading manufacturer of new lithium battery materials and lithium battery development, with internationally advanced materials and electrochemical technology, its battery products have a wide range of application prospects in aviation, power transportation, drones, and other fields.
The company will invest 700 million US dollars in Zhangjiagang High-Tech Zone (Tangqiao Town) to build a high-energy density lithium-ion battery production and research base, which will achieve a monthly production capacity of 10 million lithium-ion batteries after reaching production.
India's Omega Seiki to build battery and powertrain plants
India's Omega Seiki Travel will invest 8 billion rupees ($98.1 million) to build two plants in India to produce electric vehicle components, including batteries and powertrains, Bloomberg reported.
Omega Seiki, which was founded in 2018 and is based in New Delhi, said in a statement on Jan. 29 that it has entered into a partnership with iM3NY, a startup that makes lithium-ion batteries in New York, to produce batteries in India. The company has also formed a joint venture with Jae Sung Tech Korea, a small electric vehicle powertrain technology company, to produce electric vehicle powertrains locally.
The new battery plant will be located in the western Indian state of Maharashtra, with an initial capacity of 0.5 GWh and will be gradually expanded to 2 GWh; the powertrain plant will be located in Haryana and will produce 10,000 systems in 2024 and 100,000 by the fourth year, the company said.
Consulting firm Arthur D. Little predicts that India's demand for lithium-ion batteries will increase from the current 30GWh to 200GWh by 2030, making it critical to increase local battery manufacturing capacity.
LG New Energy in talks with Tesla to supply batteries
LG New Energy said it expects nearly half of its global battery capacity to be earmarked for the North American market. It is in talks with Tesla and other electric car startups to supply batteries from its proposed Arizona battery plant.
Two other giants bid with BYD for Ford's German plant
German media reports say that in addition to BYD, auto parts supplier Magna and Dutch automaker VDL Nedcar are also interested in buying Ford's Saarland plant in Germany.
Previous reports in the foreign media pointed out that Ford is planning to sell the Saarland plant in Germany to BYD, the world's first company to successfully transform into a new energy vehicle.
According to the report, Ford is currently using the plant mainly for the production of the Focus compact model and plans to end production in 2025.
The report also said that Ford is currently in contact with as many as 15 potential investors, of which BYD is only one, and that negotiations are still at an early stage, with the possibility of failure.
A few days ago, CAM, a well-known German automotive research institute, released a report pointing out that the technical maturity of pure electric vehicles has increased significantly and rapidly entered the mainstream market, with about 7 million pure electric vehicles sold worldwide in 2022, an increase of 63% year-on-year.
For more:
1.Weekly industry news: CALB launches A-share secondary listing!
2.Battery industry news: CATL signed a big order in the UK, and the German factory started to produce batteries!
3.Times Geely Yibin project successfully put into operation! REPT is ready to list! LG Energy invested 4 trillion to expand production capacity!