Revealing the small-capacity packaging of NMP solvents–ZESHENG
It is well known that NMP (N-Methyl Pyrrolidone) solvent shipments are very large, and ZESHENG's domestic shipments in China are in tons. So have you ever seen the packaging of small-capacity NMP solvents? Recently,the ZESHENG team packed small-capacity NMP solvents for overseas customers.Let's take a look at how tight the product packaging of the ZESHENG team is.
The picture above is the NMP (N-Methyl Pyrrolidone) solvent packaging picture received by the editor and sent by the overseas logistics department. The editor has to boast that it's really a conscience package. In order to ensure that overseas customers can get satisfactory products, and to ensure that the quality of the product is not infringed, the NMP (N-Methyl Pyrrolidone) solvent is packaged by the ZESHENG factory (plastic blue barrel) and reinforced with cylindrical barrels.
Not to count. After the product was packed into the overseas logistics department, the staff of the logistics department were worried that the barrel type of the cylindrical would be dumped during transportation, so they rebuilt a rectangular box. After adding a few layers of bubble diaphragm on the periphery of the cylinder barrel, it was put into the box, and then sealed the binding box. In order to be foolproof, the ZESHENG team has done its best to hope that overseas customers can successfully receive NMP (N-Methyl Pyrrolidone) products sent by ZESHENG.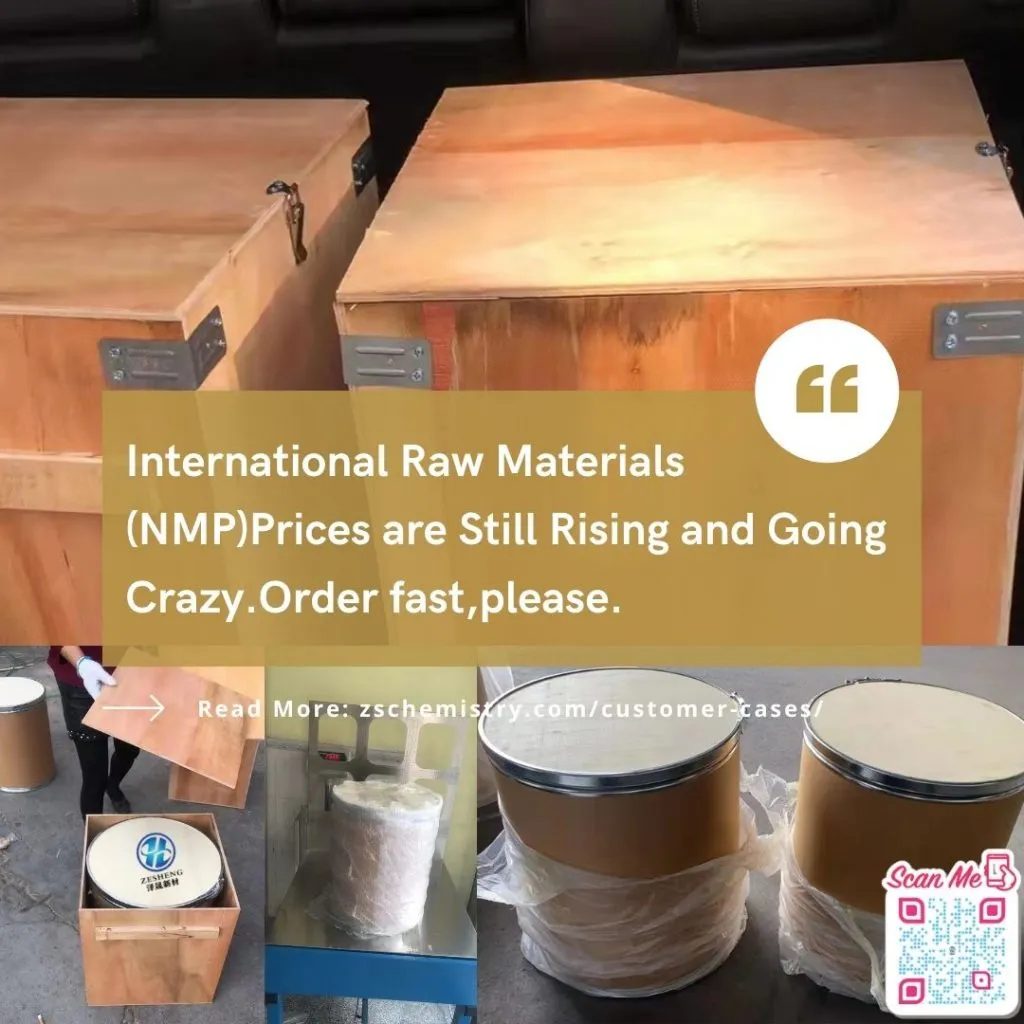 The ZESHENG team,a subsidiary of WIT-FENGZE,has a team of professional engineers with more than ten years' experience,with annual sales of more than 270 million.The ZESHENG team not only has a standardised service process,but also have an efficent and worry-free service team.We can provide NMP solvents of different purities you want, and customise NMP waste liquid recycling equipment for you to improve the recovery rate to save the costs, meanwhile, make a contribution to protecting the earth and the environment.
Looking forward to your cooperation consultation call and the ZESHENG team will bring you more competitive industry solutions.
"We all have an unsuspected reserve of strength that emerges when life puts us to the test." ~Isabelle Allende
Accumulate a lot and look forward to a better future!